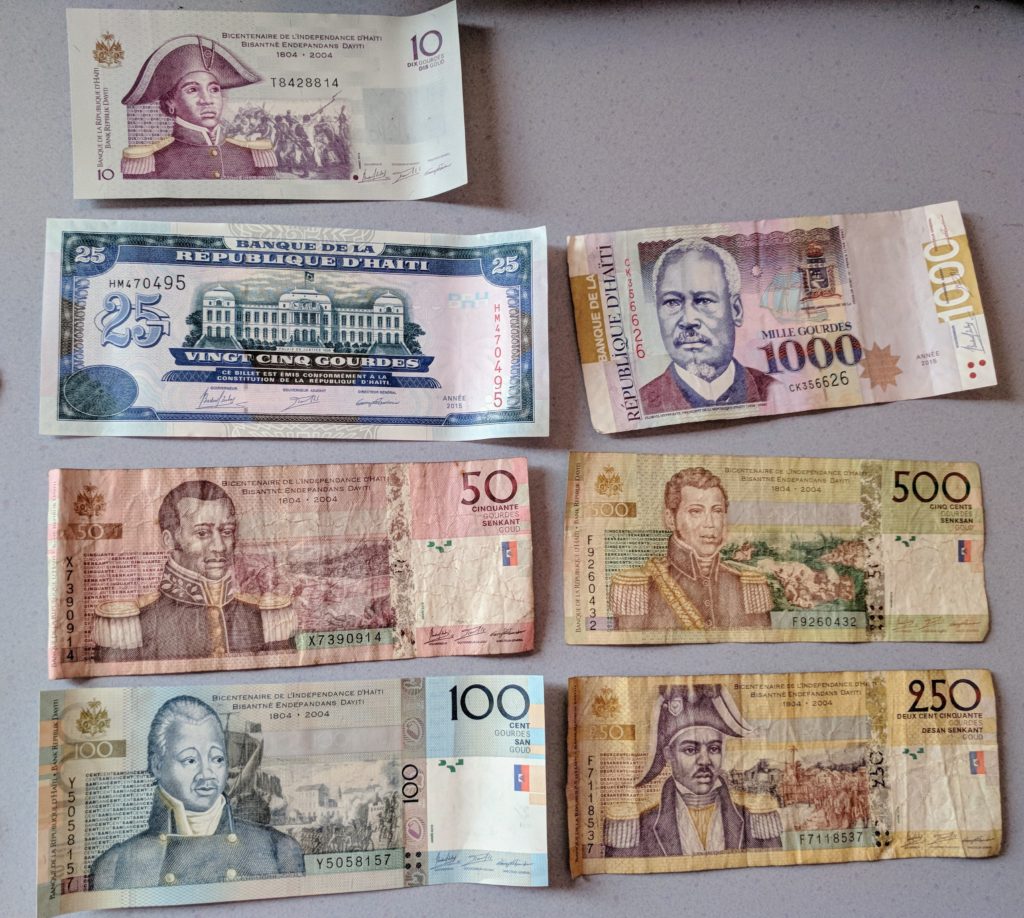 This post will introduce you to the Haitian Creole names for the different monetary notes in Haiti. Listen to the audio clip below and follow along with the text. Scroll down for Estherline's video about money in Haiti.
Atik sou lajan Ayiti 
Article about Haitian money
5 – Senk goud
10 – dis goud
25 – vennsenk goud
50 – senkann goud
100 – san goud
250 – desan sinkann goud
500 – senksan goud
1 000 – mil goud
Video Explaining Haitian Money
What's the difference between goud and gourdes?
Nothing really, it's just the French and Croele names for the same unit of currency. Goud is Creole. Gourdes is French.
What is the Haitian Dollar?
The Haitian dollar is simple 5 goud. The history of this goes back to the US occupation of Haiti in the 1920 when one USD was equal to 5 goud. That is definitely not the case today, but the theoretical "haitian dollar" is still a popular way to talk about price. That is especially true when buying large ticket items. So simply take the goud price divided by 5. For example:
100 goud = 20 Haitian dollars
250 goud = 50 Haitian dollars
1000 goud = 200 Haitian dollars
How much is a Gourde in US dollars?
The current exchange rate is about 65 gourdes to 1 USD. That means you would divide the face value of your Haitian note by the current USD price of 65. Click here to get the latest from Google. So here is the rough estimate that I keep in mind. I don't hassle too much with little money and leave most of the shopping up Estherline.
250 goud is just under $4
500 is about $7.50
1000 is about $15